The term OCD is often thrown around flippantly, but any parent of a child with true OCD symptoms knows the mental obsessions and compulsions are overwhelming. The symptoms range, however, most kids who have true OCD will struggle with anxious and worrisome thoughts about specific things that lead to preservation and "checking" that never seems to be satisfied.
Living with a child who shows signs of OCD is taxing to their caregivers and puts real strain on parent-child relationships.
How can I help my child with OCD at home?
Sometimes parents think that ignoring the behavior or telling a child to just "stop" might be the best tactic for OCD.  In my work with kids I have found that the opposite is true. If you are able I would encourage you to lean into what your child is feeling at different times of the day by asking them what there worry thoughts need and then reassure them they are safe.
Once a child feels safe you can challenge their thoughts and begin to teach them new ways to think and act. Without safety or feeling like "someone gets me and see me" it is hard to get a child to move towards lasting change. If you aren't sure how to do this there are some great examples and ideas in children's workbooks that address topics in a kid friendly way such as how to change automatic thoughts and promote flexible thinking.
One such workbook is "What to Do When Your Brain Gets Stuck: A Kid's Guide to Overcoming OCD"  by Dawn Huebner.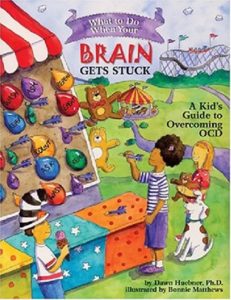 One of my all time favorite story books on OCD is titled "Mr. Worry: A Story About OCD" by Holly Niner.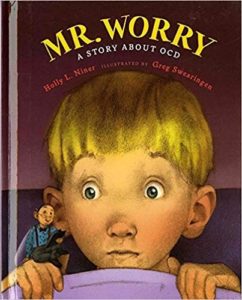 This book is a beautiful story that socializes for a child and parent what it can look like when OCD takes up so much space in your life.  I highly recommend that any parent who has a child with OCD symptoms get a copy of this book to read.
Parents, hear this, OCD is hard but it doesn't have to be a life sentence.
If you need additional resources and support to learn more about parenting a child with challenging OCD symptoms we are here to help.  Sign up for our Parent Matters newsletter or follow us on instagram for more parenting articles and ideas. Or if you would like, give one of our child therapists a call today for a free consult.
Parenting is hard, so stay supported!  Don't parent alone.
Parent Matters Blog
Resources to help parents raise safe and informed kids.
Do you find yourself feeling like all you seem to do is yell at your child? It's exhausting having to repeat yourself, and feeling so disrespected by their actions that you just pop!  You are not alone in your struggle and the good news is there are ways to connect...
Most caregivers think that if they provide their child with enough opportunities, the best education, and extracurricular activities that they will succeed in life. But that could actually hurt the building foundations of your child and compromise their ability to...
Don't Parent Alone! 
Sign up for our FREE Newsletter: "Parent Matters."
Receive our best parenting advice right to your inbox. Our goal is to help parents raise safe and informed children.
We help anxious kids and frustrated parents. We serve Hinsdale & the Western Suburbs of Chicago.
Made with ♥︎ in Hinsdale, Illinois for Chicago
Built By Brand Your Practice.
© 2019 Kid Matters Counseling, P.C.
Kid Matters Counseling, P.C. DISCLAIMER: This website and blog are for informational, educational and general discussion purposes only. It is understood that no guarantee or warranty arises from the information provided, discussed or commented upon in this. website and blog nor does it constitute legal or other professional advice on any subject matter. Access to this website and blog is voluntary and at the sole risk of the user. If you think that you have a medical emergency (including clinical), call your doctor or 911 immediately. A licensed medical professional should be consulted for diagnosis and treatment of any and all medical conditions. While the information contained within this website and blog is periodically updated, no guarantee is given that the information provided is correct, complete, and/or up-to-date.